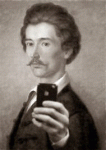 Kiss László (Leslie (Lezli))
18 years old, male
Komló
Hungary
Offline, last visit: 25 days ago
member for: 3 years
Processor:
AMD Phenom II X4 955 BE 3,2 GHz
Memory:
2x2GB 2x1GB - DDR2
Videocard:
MSI Geforce GTX 660 Ti Power Edition 2gb GDDR5
Op. system:
Windows 7, 64-Bit
Motherboard:
Asus M4N78 PRO
Monitor:
Samsung SyncMaster 226bw
Keyboard:
Razer Ultimate Deathstalker Gaming Keyboard
Mouse:
Razer Ourobros
Others:
Fejhallgató - Razer Tiamat 2.2
Refreshed: 2017. 06. 24.
Post Comment
Please login to post a comment.
Comments: 1