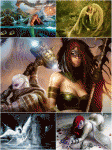 Offline, last visit: 25 days ago
member for: 1 year
Processor:
Intel(R) Core(TM) i7-4770K CPU @ 3.50GHz
Memory:
corsair vengeance Lp 2133mh 4X4gb
Videocard:
radeon r9 290X
Op. system:
win10
Motherboard:
maximus 7HERO
Soundcard:
alaplapi
Optical driver:
240gb ssd (OCZ) hyperx kingstone
PC Case:
Cooler Master HAF Stacker 945
Power supply:
thermaltake toughtpower XT 775W
Monitor:
LG Full HD LED TV 32LB5610 81cm (32 ")
Keyboard:
GX-GAMING IMPERATOR
Mouse:
rat pro s
Changelog:
Semmi nagy változás nincs a gépnél.
In use:
2015. 02. - 2017. 07.
Refreshed: 2017. 07. 29.
Post Comment
Please login to post a comment.
Comments
No comments have been posted. Be the first to comment!