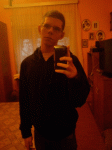 25 years old, male
Kecskemét
Hungary
Offline, last visit: 3 days ago
member for: 4 years
Processor:
Intel Xeon x5460 @3,17 Ghz
Memory:
2x2GB Kingston DDR2 800 Mhz+ 2x2 GB Geil DDR2 800 Mhz
Videocard:
Asus ROG STRIX-RX460-O4G-GAMING
Op. system:
Windows 10 x64
Motherboard:
Gigabyte EP35-DS3L
Store device:
Radeon r3 120 GB SSD+Western Digital Green 1 TB+Samsung H161HJ (160GB)
Soundcard:
Integrált RealTek HD Audio
Optical driver:
LG GH24NSB0
PC Case:
Corsair Carbide 200R Windowed
Power supply:
Chieftech i-Arena 400w
Monitor:
AMW x1900DS
Keyboard:
Genius KB-G235
Mouse:
Logitech Optical Mouse PS/2 (m-sbf96)
Others:
CoolerMaster Hyper 212X
CM Jetflo 120 mm fehér venti hátul
Revoltec CCFL 2x30 cm fehér fénycső
Changelog:
Szobámban lévő kettes gép. - Novemberben megkezdtem a (korlátozottan) játékra alakítását, amely elég jól halad. - Átadásra fog kerülni a barátnőmnek [ottani perifériákkal, adatlap későbbiekben ennek megfelelően fog frissülni]
2017 01 09 - Elkészült a gép! :)
In use:
2016. 10. -
Refreshed: 2017. 01. 09.
Post Comment
Please login to post a comment.
Comments
No comments have been posted. Be the first to comment!