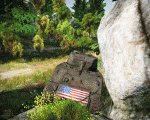 27 years old, male
Slovakia
Offline, last visit: 12 days ago
member for: 4 years
Processor:
Amd Athlon II X4 640 + Antec Kühler H600 Pro vízhűtő
Memory:
2x4 gb Kingston 1600Mhz DDR3
Videocard:
R9 280x dual
Op. system:
Windows 7 64bit
Motherboard:
Asrock N68c-s ucc
Store device:
WD Black 64mb Cache
Soundcard:
Alaplapi
Optical driver:
Minekaz :D
PC Case:
Zalman Z1 Neo
Power supply:
FSP Hyper 700
Monitor:
Asus VS247H
Keyboard:
Evolveo GK 680
Mouse:
E Blue Cobra Junior
Others:
Aiwa Hifi AUX-al rákötve a gépre :D
Changelog:
Noname 400w tápról váltva FSP Hyper 700-ra. HD7770 VaporX OC 1gb Gddr5 vidikariról pedig R9 280x Dual-ra. Ócska gépházról váltva Zalman Z1 Neo-ra, majd SCYTHE Mugen 4 PCGH Edition hűtőről váltás Antec Kuhler H600 Pro vízhűtésre.
Refreshed: 2017. 02. 14.
Post Comment
Please login to post a comment.
Comments
No comments have been posted. Be the first to comment!