Cyberpunk 2077 has been delayed
CD Projekt Red announced today on Twitter that their highly anticipated game has been pushed back by five months. This means Cyberpunk 2077 is being delayed from April 16 to September 17. Developer CD Projekt would like to have more time to polish and playtest the game.
"We are currently at a stage where the game is complete and playable, but there's still work to be done. Night City is massive - full of stories, content, and places to visit, but due to the sheer scale and complexity of it all, we need more time to finish playtesting, finishing and polishing. We want Cyberpunk 2077 to be our crowning achievement for the generation and postponing launch will give us the precious months we need to make the game perfect," reads the official announcement.
Check out CD Projekt's full announcement on the delay below.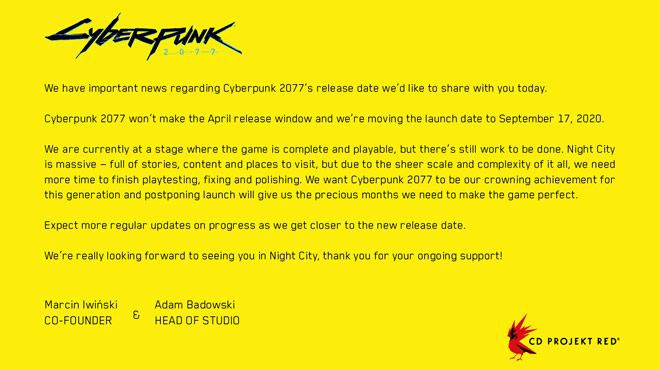 CD Projekt Red's sci-fi role-playing game Cyberpunk 2077 is now slated for release on September 17 for PC, Xbox One, and PlayStation 4.
Recommended
Post Comment
Please login to post a comment.
Comments
No comments have been posted. Be the first to comment!