The Humble Care Package Bundle
Get 27 awesome games in the latest Humble Bundle, named Humble Care Package Bundle, which offers $385 worth of games.
Humble Bundle's latest bundle is available for one week from now on.
Grab the Humble Care Package Bundle here.
The Humble Care Package Bundle contains the following games:
Tier 1 (30$):
Starbound
Darkest Dungeon
Minecraft: Story Mode
Stardew Valley
Move or Die
Duck Game
Her Story
She Remembered Caterpillars
Stronghold Legends: Steam Edition
DreadOut
Pony Island
Mighty No. 9
The Incredible Adventures of Van Helsing
Arma: Gold Edition
Grey Goo
Sorcerer King: Rivals
Shadowrun Returns
Kholat
Primal Carnage: Extinction
Lakeview Cabin Collection
The Park
Magicka
Machinarium Collector's Edition
Jump Stars
Fearless Fantasy
No Time to Explain Remastered
Psychonauts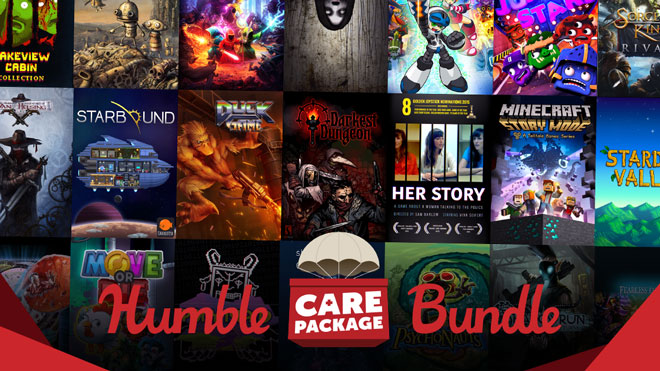 Recommended
Post Comment
Please login to post a comment.
Comments
No comments have been posted. Be the first to comment!