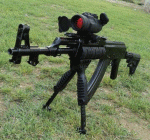 Muhammad Muneeb Salman Khan (Muneeb)
19 years old, male
D.I.Khan, K.P.K
Pakistan
Offline, last visit: 3 years ago
member for: 5 years
Call Of Duty Modern Warfare 3 Review
The third and the last installment of the best first person shooter series by Infinity Ward. It was released in November 2011. In this part the story ends with Vladmir Makarov.
The last installment of Modern Warfare Series and also to be considered the best of it. It was released on 8th November 2011. Great Story, Awesome Graphics, Realistic gameplay and whatever you expect from any Modern FPS shooting game is here in MW3.
--- Spoiler starts here ---
In the story of this part Vladmir Makarov is killed at last by Captain Price after a long bloodshed.
The story starts from where it ended in Modern Warfare 2. Soap is still very injured Nikolai and Price get him to Himalayas, India and get a medical treatment for him. On the other hand Sargent Derek Frost, Member of Delta Force is in fight with his team in New York against Russians. Delta Force is given task to destroy Russian radio jammer. The delta force destroy the jammer and then go to a mission destroying the enemy's Submarine. After that story again goes to Taskforce 141 the Russians attacked the Himalayas to kill Soap & Price. Here some enemies of Makarov called the Loyalists help them. The player plays as a friend of Nikolai, Yuri ex member of Spetsnaz, Russian Special Forces. Yuri fights against Russians to save Soap and fight their way out of Himalayas. The player than plays as a unit of Russian F.S.O, Andrei Harkov and is in plane with Russian President Vorshevsky who is going to Hamburg, Germany for meeting U.S. Vice President in a Peace Summit. The plane is attacked by Makarov's men and is crashed. F.S.O saves the President and his daughter and a Helicopter arrives for President as the Andrei Harkov opens the door Makarov comes out and kills Harkov and his commander and captures President Vorshevsky. Captain Price, Soap and Yuri then go to Sierra Leone to capture a precious cargo belonging to Makarov about which Yuri tells Price that it is important for Makarov. But they fail to capture the cargo and it escapes. After that the player plays as a Unit of S.A.S. Sargent Burns with his friends Sargent Wallcroft and Private Griffen. They go on a mission to capture suspicious trucks. As they capture the trucks the Chemical Weapons in the truck explodes. The Americans then get the NEWS that all of the Europe is attacked by Russian Forces after being attacked by different Chemical Weapons. American Army then send Sandman with his Delta Force to rescue Vice President from Hamburg, Germany. Taskforce 141 then go to Somalia for capturing Makarov's man who tell them that Makarov's bomb maker Volk is in Paris. Price then give this information to Sandman and he captures volk with GIGN members. After a hard and long fight and destruction of the whole Paris, Delta force finally brings volk alive. He tells them that Makarov is meeting his top 6 advisors in Czech Republic. Taskforce 141 then goes to Czech and Soap and Yuri takes place on a Church with silenced snipers to kill Makarov and price and Kamarov go into the building. At the time of Makarov's arrival Kamarov's radio is silenced but the rest of team go on with the plan. Price after getting in the building finds out that Kamarov's body is fitted with bomb to kill Captain Price. Makarov says to Price 'Hell awaits you captain Price' and price escape the bomb. Makarov then says to Yuri 'Yuri my friend you should not have come here' and the building blows. Soap pushes Yuri to save him and himself get injured. Price and Yuri take them to the Rebel camp but the Soap dies at meantime. He tells price before dying that Makarov knows Yuri. The Price then punch Yuri into an underground basement and asks about his truth. Yuri then tells him that he was with Makarov when Imran Zakhaev was making a deal with terrorists in 1998 and Captain Price shot him on his arm. He then tells him that it was also Makarov's work when the Neuclear bomb in Middle-East in 2011 exploded and thousands of Marines lost thier lives. Then he further goes with his story telling Price that he told someone about Makarov and he shot Yuri but Yuri survives. He tries to kill Makarov with his pistol but he escapes. Then a cop finds him and saved his life. Captain Price then attacks Makarov's stronghold and finds out that Makarov's men are going after Alena Vorshevsky and tell Sandman about it. They go to save her but they get late and makarov's men take her from there. Then the Taskforce along with Delta Force go to a mine where both the President and his daughter are kept (In this mission Sargent Derek Frost is not present). They save both of them but they get trapped in the mine. Enemy come from all the directions. Sandman insist price to leave the Delta force and go away. They escape from there and Delta force is killed. After that Peace is made between America and Russia as The President and Vice President meet each other. But Captain Price still seeks revenge. He goes with Yuri and Nikolai to a hotel where Makarov is present (In this mission player plays as Captain Price). Captain Price chase Makarov to his Helicopter and the Heli crashes. Price is injured Makarov tried to kill price but Yuri shoot him but Makarov moves faster and kill Yuri. Price then kills Makarov watching the chance and the war of Captain John Price ends with Vladmir Makarov.
--- Spoiler ends here ---
Well it's a fantastic game series and I think every gamer must play it. There is no FPS shooting without Call of Duty Modern Warfare 3 :D. I love this game very much. It's my favourite one. And Again At last I Will show u all a picture of the game xd.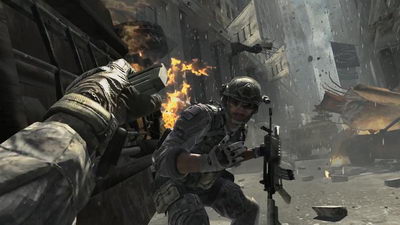 Post Comment
Please login to post a comment.
Comments: 14
Rating