AMD Ryzen 7 officially announced, pre-orders started
During a "Tech-Day" event today, AMD officially announced 3 of their high-end Ryzen CPUs. They announced Ryzen 7 1800X, 1700X, and 1700. As we previously knew, all of these CPUs consist of 8 Cores and 16 threads. Below are the confirmed specs.
These processors are ready to pre-order at most major online retailers like Amazon. They'll ship from March 2, 2017.
AMD also discussed the performance of these CPUs. They released Cinebench R15 scores of the Ryzen 7s. For the multi-thread benchmark, 1800X scores 1601, 1700X scores 1537 and 1700 scores 1410. If compared to their Intel equivalents, the 1800X & 1700X beat out the $1000+ Core i7-6900K's 1470 score. While Ryzen 7 1700 is well ahead of Core i7-6800K's 1108 score.
While Intel's latest Kaby Lake processor Core i7-7700K is no match for these Ryzen CPUs at multi-threaded tasks, it is yet to be discovered if it manages to stay as the fastest single-thread CPU thanks to its superior clock speeds. But AMD claims Ryzen 7's single-thread performance is also decent and from what they showed, the Ryzen 7 1800X and Core i7-6900K has equal score (162) on Cinebench's single-threaded benchmark. No info on 1700X & 1700's single-CPU performance though.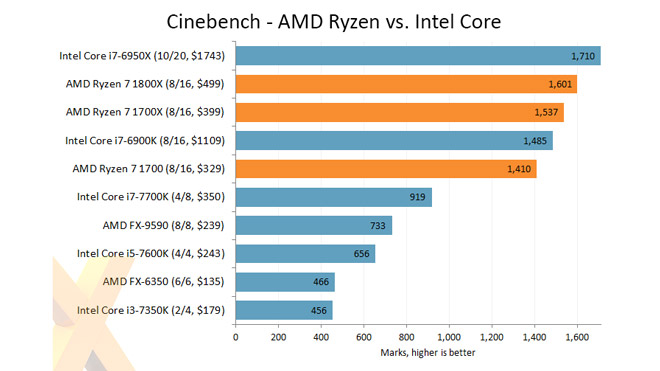 AMD Ryzen is showing some great promise. It has amazing performance/price ratio. But what do you personally think of it? Do you like what you see? Let us know in the comments.
Recommended
Post Comment
Please login to post a comment.
Comments: 1