Here's everything about Call of Duty: WWII PC open beta
We, the PC gamers, now don't need to wait much longer to experience the multiplayer aspect of this year's Call of Duty before the full official release on November 3. What I mean is, the multiplayer PC open beta of CoD: WWII will begin in just 3 days; precisely on 29th September and runs till October 2.
To make sure people don't end up wasting their time just downloading the game, Activision has now enabled pre-download. You can start downloading right now on Steam.
Below are the PC specific features of the beta:
• Native 4K Support
• Framerate Cap Slider (up to 250FPS)
• FOV Resizing
• Keyboard/Mouse Fully Re-mappable
• Controller Support
• G-Sync Monitor Support
• Ultra-Wide Monitor Support
• High-resolution Mouse Support
• Advanced Video Settings
Despite native 4K support, HDR and multi-monitor setups will not be supported in this beta. However, they'll be available at launch.
Following is the official round up of what this open beta consists of:
• Maps – Four Multiplayer maps: Pointe du Hoc, Ardennes Forest, Gibraltar and Aachen
• War – Operation Breakout
• Modes – Four Multiplayer modes: Team Deathmatch, Domination, Hardpoint and Kill Confirmed
• Divisions – Five Divisions: Infantry, Expeditionary, Airborne, Armored, and Mountain Division. Players aren't limited to any single Division, so try them all!
• Progression – Players will begin at Soldier Rank 1. Over the weekend, the level cap will increase to 35, including progression to unlock weapons, scorestreaks, and equipment.
Unfortunately, the seemingly cool and new-to-series multiplayer feature called "Headquarters" will not be available in this beta, although it's all about multiplayer.
Also, every participant will be rewarded with a "Private Beta Combat Pack", which includes a unique helmet, calling card and emblem.
But don't just jump right in, first make sure that your PC can handle it. Here are the requirements.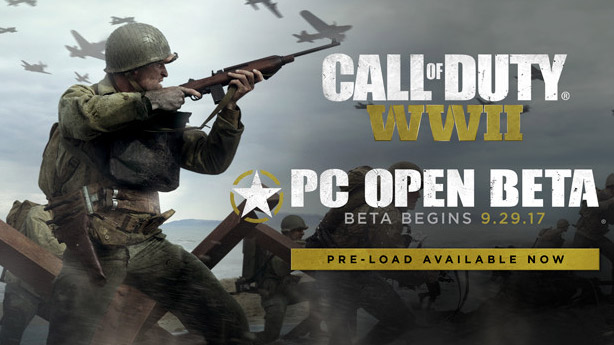 Recommended
Post Comment
Please login to post a comment.
Comments: 2