Intel Core i9 series leaked
We have another hot leak in the industry but this time for hardware instead of games. Intel is reportedly preparing to launch Skylake-X family processors with Core i9 branding. Skylake-X will consist of Core i9-7920X, Core i9-7900X, Core i9-7820X and Core i9-7800X. Look at the below picture to see the leaked specs of these monsters:

In case you wonder what are those i7s doing there, they're part of the Kabylake-X series. Yes, there will be 2 divisions in the Core-X family; the Skylake-X and Kabylake-X. While the Skylake-X is made up of i9s, Kabylake-X is made up of more Core i7s. Core i7-7740K and Core i7-7640K are the currently leaked ones.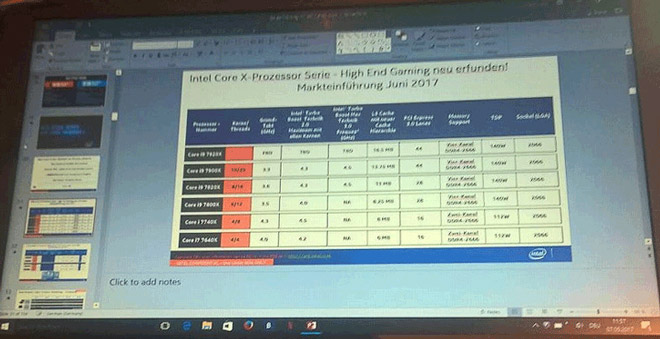 Do you know the most interesting thing? Except the flagship Core i9-7920X, every CPU is releasing next month! And don't be surprised if these processors are showcased at E3's PC Gaming Show. Because Intel is sponsoring the show. So chances are high that E3 will be the reveal stage (maybe even the launch stage!) for the new Core-X family.
So don't even think about missing E3 2017. If you're not fortunate enough to experience it in person, don't worry. Every major show and conference will be streamed live here at GSR. Stay tuned!
Below are our company specific E3 coverage so far:
Microsoft: Link
Bethesda: Link
EA: Link
Sony: Link
Recommended
Post Comment
Please login to post a comment.
Comments: 5