Prince of Persia: The Sands of Time
Prince of Persia: The Sands of Time is a third person fantasy action-adventure game. It\'s the 1st installment of the widely known Prince of Persia series by Ubisoft. The game has good gameplay and a very good storyline.
Prince of Persia: The Sands of Time is set in a time period of kings and kingdoms, when main weapons were swords and arrows. Most of the game is set in Azad and starting of the game is set in India.
This game is played from a moveable third person camera view. Although the player can switch it to first-person view with the push of a button. The first-person view camera is only available when the player is standing still, trying to move while the camera is set to first-person will bring it back to the third-person view.
This game is an action-adventure game, so let's talk about the fighting or combat mechanics of this game. Our hero or protagonist is a young Persian prince, who is desperate to achieve honor and glory through combat.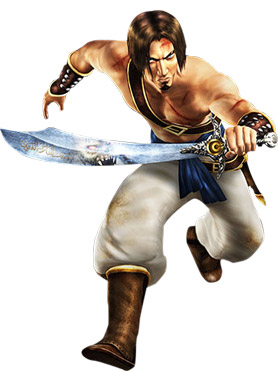 The Prince
He is a sword fighter. At the very early stages of the game you (the player) will only have one weapon, a normal and weak sword. But the prince's real strength is his agility and dexterity. He can pull off some agile and deadly moves. Such as mid air slash, wall rebound attacks or switching enemies quickly with cool moves. There are two deadly counter-attacking moves, which are difficult to pull off and need some practice but can ground or finish (you can't kill your enemies cause they are already dead; Sands of Time kills any living being and transforms them into mindless sand creatures) an enemy with a single blow if properly done. You'll get a magical dagger named "The Dagger of Time" soon enough, which can control time. You can rewind time with it upto 10 seconds. Which is pretty awesome. The dagger will gain more special powers as the game progresses, like freezing an enemy, slowing down time, mega freeze and will be able to store more sands of time.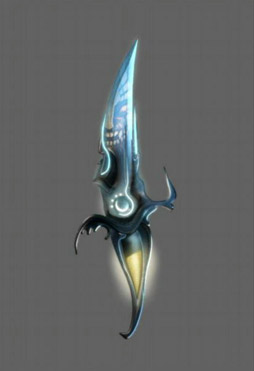 The Dagger of Time
Sword upgrades are also available throughout the game. Once you get the dagger the combat style will change a little, you'll have to take out the sands out of your enemy after grounding them (before getting the dagger only grounding an enemy is enough). As the game progresses you'll encounter new enemies, each type has it's own fighting techniques and some are immune to some of the prince's attacks. You will even encounter enemies on some ledges, beams, ladders etc. However you'll not be alone in this journey you'll have a young Indian princess along with you, who is an archer and will cover you in battles. But be careful though, her arrows can hit you too. To regain the amount of health you lost in a battle you'll have to drink water, which can be found at many places. You can increase your maximum health level by drinking water from a magic fountain but they are hidden, you'll have to find them. Combat is not as good as Warrior Within or The Two Thrones but still fills good once you get used to with it.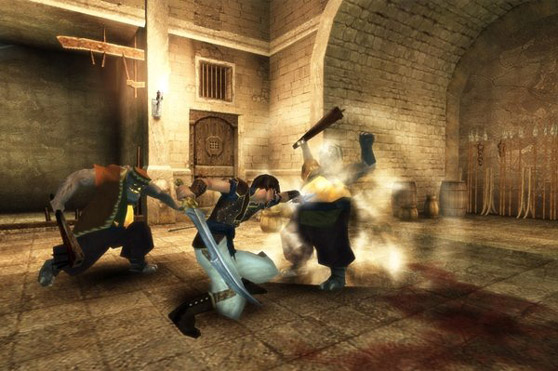 Prince fighting against some enemies
One of this game's key gameplay feature is parkour or freerunning. Our protagonist is a good and skilled free runner. He can climb up & down walls, pillars, trees etc. with ease and jump across big gaps & leap down great heights with no major problems. He can also run on walls for short period of time both horizontally and vertically. You'll have to interact with many different environmental things, such as ropes, poles, ladders, beams etc. You'll have to swing and jump from pole to pole, rope to rope, ladder to ladder or any combination of these. The game has many puzzles also but they are very easy. You'll have to complete the puzzles in order to progress. There are many booby traps in this game, which you'll have to avoid using the prince's agility and dexterity and with the use of some brain too. If you think a trap is too tough to avoid, use the dagger to slow down the time. So, the trap will slow down but you'll have your normal speed and it can be cleared easily. But avoiding traps in real speed feels more fun than in slow motion.
The game has a very good storyline and a good technique of telling the story. The prince himself is the storyteller and you'll find out at the end of the game the reason of it. The story revolves around the Prince (whose name wasn't revealed in the game) and Farah the Indian princess.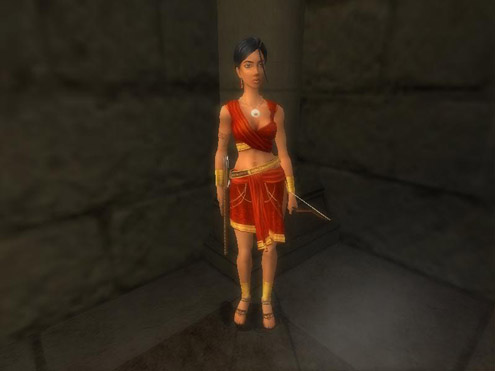 Farah
About how the sands of time got unleashed and how they're gonna undo that. The game has some funny moments too. But the story will become more sad as the game progresses. Don't be afraid though the game has a good ending. But the events of this game has caused some serious distress in the timeline, which will lead the Prince to his next journey in Prince of Persia: Warrior Within.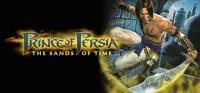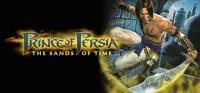 Prince of Persia: The Sands of Time
Release date: 2003. November 30. (PC)
Genre: , , ,
Developer: Ubisoft Montreal