Would You Serve In Heaven? Or Rule In Hell?
Darksiders is a 2011 hack 'n slash, puzzler game developed by Vigil Studios and published by THQ. It tells the story of one of the Four Horsemen of the Council, War. Who is accused of the destruction of mankind. Heaven hunts him, Hell hates him. It's you who'll help him ride his way to redemption in an epic post-apocalyptic journey.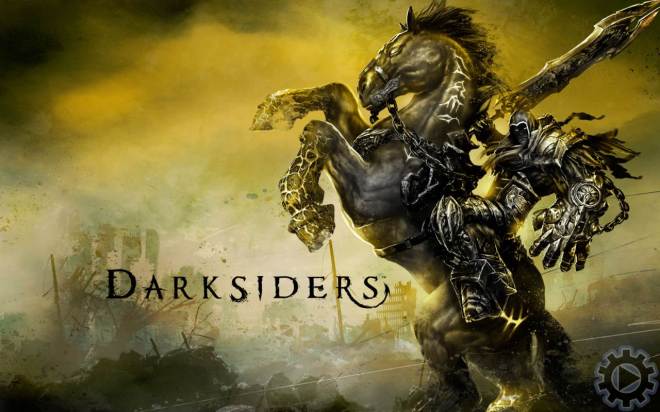 Darksiders
Darksiders primarily takes place in a post-apocalyptic Earth, where the Kingdom of Man is lost (i.e. destroyed) before its destined time and the armies of Heaven and Hell are at an endless war. Some places that you'll need to visit in your journey are a reflection of Hell, while others resemble Heaven. But they all are actually located in our very home, Earth (although you'll visit the real Heaven once). I must praise the art direction and the imagination and creation of the game world. One will not forget Darksiders' world anytime soon.
On a sidenote, the game is part linear-part open-world. After a certain amount of linear gameplay you'll be able to freely roam in the places you have unlocked (i.e. already visited).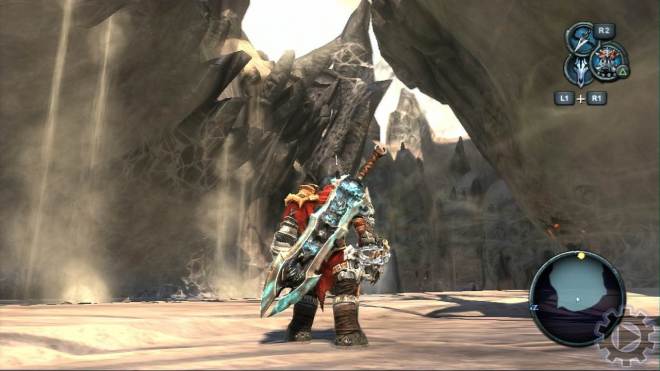 Our protagonist is one of the Four Horsemen of the Council, the Rider of the Red Horse, War. First, let's know what the "Council" is. It's a very special council made up of three rock looking creatures, who ensure justice for everyone; be it Heaven, Hell or mankind. The Council is respected by both Heaven & Hell (I think humans didn't know about them). But if some rogue(s) tries to stop/ignore/disturb Council's justice, the law enforcers known as the "Four Horsemen" (because they all ride horses but one of them is a woman) will do their job. They're extremely powerful and deadly. No one dares to challenge them.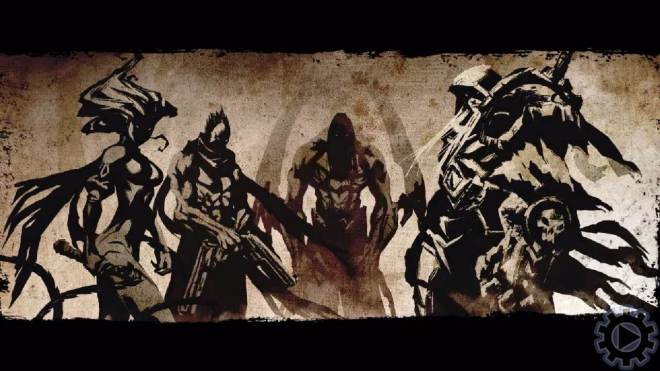 So, one of them is our hero, War. But he is not enforcing some law this time around; he is fighting for his own redemption. Stripped of his powers, bound with a watcher, he sets on an epic journey to prove himself innocent. Why? How did this happen? I believe you're wondering the same right now. Then know this, that's what the game is all about. The story is the main attraction of the game. So if you're the type of gamer who really cares about the story, trust me, you won't be disappointed by Darksiders.
Next up is gameplay. Darksiders features (almost) equal amount of combat and puzzles, with minimal platforming. The combat is classical hack 'n slash style with simple and easy to learn mechanics. But I would have preferred more depth and complexity over the game's simplistic combat style. Please note that when I say simple, I don't mean easy. I mean, it's easy to learn how to wield your sword. But it's challenging enough to use it for survival against a huge group of (strong) enemies, especially in higher difficulties.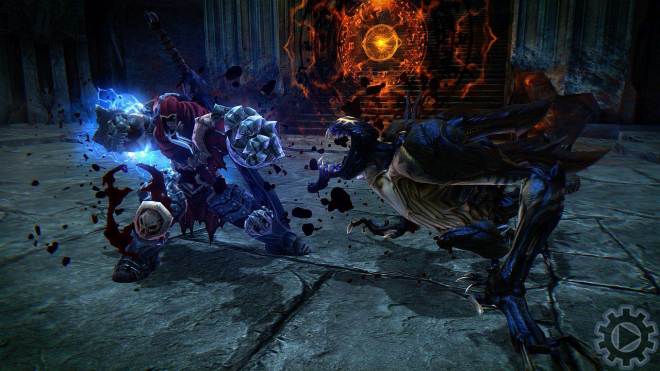 There will be a good number of weapons in your arsenal. Ranging from swords to guns and everything in-between. But your best weapons aren't the fancy ones you'll see when you pause the game. It's YOU and your horse, "Ruin". You'll be decimating a lot of enemies in your Chaos Form and slashing even more while doing what "you were born to do" (i.e. riding Ruin).
Another combat element that's worth mentioning is the "Spectacular Kill". They're just special kill animations that can be executed (by pressing "E" when a icon appears on an enemy's head) on (almost) any enemy (including bosses) for a feeling of being a badass. It's optional to use them on enemies other than bosses.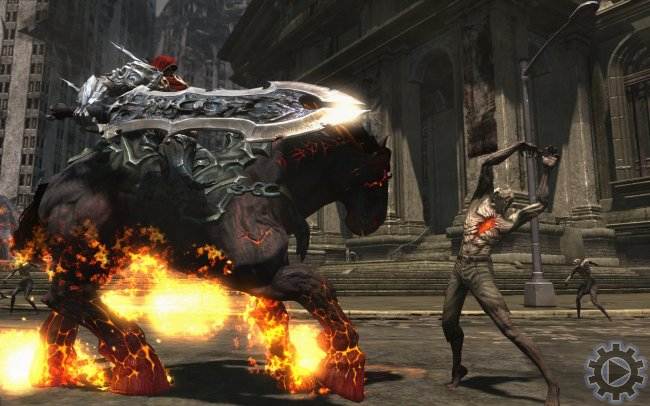 But combat is half the focus of the gameplay. The other half is made up of puzzles, lots of puzzles. I'm not going to describe them to make sure I spoil nothing. Just know that there are various types of puzzles. Some are very simple and easy, some are really tricky and simply brilliant. Solving the trickiest puzzles feels significantly better (i.e. relieving and rewarding) than beating the toughest enemies.
And at last there is Vulgrim. Vulgrim is a demon who trades various merchandises in exchange of Souls. You earn Souls by destroying environmental things, finding chests and killing enemies. There are 3 different types of Souls in total. The green ones are for life/health, blue ones are Currency (for Vulgrim) and the yellow ones are for Wrath. I'm not going to explain how the Wrath system works, just know that Wrath is required to use some special powers. Vulgrim also offers Souls if you give him ancient artifacts which are scattered throughout the world.
Collecting Souls and searching for artifacts adds an exploration aspect to the game. The fact that you can use them to get cool Wrath powers, weapons, weapon moves and helpful Consumables only encourages more exploration.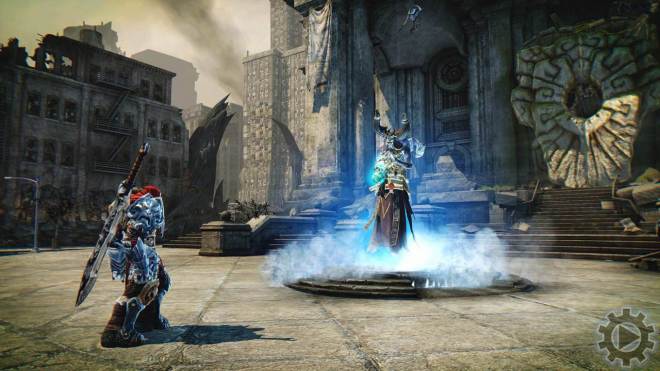 Now, near the end of the review, I must acknowledge the great performance by the game's voice actors. They really took the story-telling to another level. The dialogue writing is also memorable. I got some new favourite quotes after playing Darksiders. Actually, I have used them several times in this very review.
Okay, let us move onto the pros and cons:
Pros:
Worthwhile story
Nice graphics with great art direction
Ok-ish soundtrack, fits the game but nothing special
Simple yet satisfying combat
Cool gadgets and special powers, required to travel & solve puzzles
Good puzzles, especially in the later stages of the game
Cons:
Bugs! There are a lot annoying bugs, some even game-breaking! (the game-breaking ones solved automatically for me but you may not be that lucky)
Glitches, that frequently forced me to restart from the last checkpoint
Due to the above reasons it took me 36 hours to complete the game (while the game is much shorter than that in reality)
No graphic options to adjust. Only the resolution can be changed
That was all I wanted to say about Darksiders. So.. what do you think now? Does this game sound like your cup of tea? If yes, then wait no more, decide now, whether you would serve in Heaven or rule in Hell!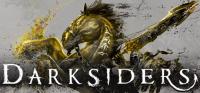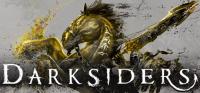 Darksiders
Release date: 2010. September 24. (PC)
Genre: , ,
Developer: Vigil Games